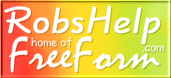 Welcome!
This auction is an offer to use my ''FreeForm Auction Description and Template Builder'' for one month with a minimum bid of only $1.00. FreeForm is a completely online service. Nothing to download, nothing to install, and free to try for as long as you like. It is important that you make use of the links below to learn about FreeForm and try FreeForm BEFORE BIDDING to make sure it is right for you.
Robbell's About Me page on eBay (created using FreeForm)
Example Page (all created using FreeForm)

Many thousands of other examples on eBay right now:

eBay Auction and Fixed Price Listings (all created using FreeForm)
eBay Store Listings (all created using FreeForm)
Yes, you can improve the appearance of your auctions on eBay...
... and, all other things being equal, more and better quality photos combined with an attractive description will lead to more bids. My FreeForm and Easy Auction Picture Hosting services provide that one-two punch!
The FreeForm Builder makes it especially easy to use pictures stored at any photo hosting service, including any free image hosting service, that allows display of pictures on eBay. You may display as many pictures as you like within the body of your eBay auction descriptions via HTML generated by the Builder. This keeps you in control over the number and the display size of your auction photos on eBay.

With the Builder you can easily ''showcase'' your photos against background wallpapers and colors that enhance their appearance. Of course, your photos themselves should also look their best! My hosting service, EAPH (Easy Auction Picture Hosting), helps with that. You'll find ''State of the Art'' Photo Optimizing Tools will enable you to dramatically improve loading speeds while maintaining superior visual quality. Please consider taking a moment to visit the EAPH site and give the demo a try.

Picture with frame, matte, and caption
Visit the examples page for auction descriptions created using the FreeForm Builder. The Builder itself contains samples and examples including the ''ingredients'' used to create those and used to create my eBay About Me page. There are always thousands of auctions running on eBay with descriptions created using FreeForm. If they can do it, so can you!

If standard eBay descriptions are not getting the sales you desire. If you need more, including pictures embedded into your descriptions, background wallpapers, interesting color schemes, and custom layout templates then try FreeForm. Freeform is probably the most versatile program available on the web for constructing custom eBay auction templates and descriptions without needing to learn HTML. It is almost certainly the most flexible such program you will find anywhere for the price. FreeForm is normally supported by completely voluntary contributions of $1 per month. That means there is no obligation and no commitment required to give it a try.
Easily create thumbnail galleries that link to your other auctions or store items on eBay.
You need only provide eBay item numbers to create the links.
Galleries may also be used to show a variety of styles and colors in a compact display.
Only one image is shown here repeatedly. You would probably use a variety of images.
The design interface for FreeForm is a modular ''fill in the blanks'' format. Because it is ''fill in the blanks'', all descriptions created automatically become templates for future auction descriptions when they are saved and you can save up to 20 of them. There is never a need to learn or wade through HTML to create custom descriptions. To use your templates just bring up a saved description / template and change the entries.

FreeForm includes libraries of public domain background wallpapers, a library of email link images, works well with ANY picture / image hosting service that provides public access, and even includes a built in point and click interface to pictures stored with many services. Other than for library images and saved descriptions / templates FreeForm does not provide hosting for pictures. To satisfy a need for the very easiest to use picture / image hosting, Rob now separately offers EAPH (Easy Auction Picture Hosting - $8 month for 30MB storage) featuring his powerful auction image management program ''iDrive''. Although EAPH and FreeForm do not depend on each other there are enhanced capabilities within FreeForm for EAPH subscribers.
Easily create list type galleries that link to your other auctions or store items on eBay.
The list type provides for textual descriptions.
Only one image is shown here repeatedly. You would probably use a variety of images.
For sale at auction
Bidding started at $1.00 !!
No Reserve!
For sale in our eBay Store
We do combine shipping costs so save money by making additional purchases!
Buy It Now!
| | |
| --- | --- |
| | We have a huge assortment of styles and colors available!! |
HTML (Hyper Text Markup Language) is what enables colors, pictures, links, background wallpapers, and design layouts in web pages. Because eBay allows the use of HTML in auction descriptions, virtually all of what is possible with full web pages is possible within the description portion of an auction page. Rather than expecting everyone who desires HTML features to take the time and effort to learn HTML, many authors have created programs both free and for profit to help. Typically these programs consist of pre written HTML auction templates or shells into which eBay sellers can insert specific information about what they are selling. If the seller happens to find an auction template that meets all his needs then he is sitting pretty. If the selection of auction templates lack desired features then it's back to square one.

FreeForm is different because no pre written auction templates are employed. Instead, one chooses among the features desired and error free auction description HTML is composed by the program on the fly. Once desired features are chosen the option is provided to save the result in one of up to 20 different personal containers. More complete than regular templates, these containers can hold information about the seller, pictures, terms and conditions of sale, email addresses, web site addresses, etc. that typically do not vary from auction to auction. FreeForm provides the fastest and most flexible route available for creating and saving custom auction templates for use over and over again in auction descriptions.
Alternate photos and text to create what I think of as a ''story telling format''.
You may include a large number of photos and put them anywhere you want.
Features List

No need to be afraid of the many features and options available. FreeForm produces great looking auction templates and descriptions almost by default. All you need do is check boxes, fill in blanks, and click buttons. Topical help and instructions are located throughout and samples are included. This is a powerful design tool -- do yourself a favor and allow some time to learn and experiment -- you'll be glad you did.
Insert images (graphics and photos) wherever you desire in description
Insert textual content and links wherever you desire in description
Point and Click to include images stored with many web hosting services
Adjust display size of images
Size attributes are automatically added to gif and jpg images (auctions show faster)
Use any text font you desire
Choose color and size of text
Choose from a palette of background colors or enter one yourself
Choose a background wallpaper image from ''libraries'' or enter one yourself
Control link text colors
Easily create links to web sites
Easily create links to your ''About Me'' page on eBay
Easily create email links
Easily create links to ''My Other Auctions'' on eBay
Save up to twenty of your own custom templates
Option to conveniently include the auction Title within description
Option to include hit counters, shipping calculators, and other custom code
Option to use Special Terms and Conditions box
Frame Builder Tool (apply background layers)
WYSIWYG (What You See Is What You Get) Text Editing Tool
Gallery Builder Tool (create your own galleries inside your presentations)
Because FreeForm is not a listing service, nor incorporates a direct interface to any online venue, the HTML that FreeForm generates is available for use anywhere HTML is accepted all over the world including:
eBay Argentina, eBay Australia, eBay Austria, eBay Belgium, eBay Brazil, eBay Canada, eBay China, eBay France, eBay Germany, eBay Hong Kong, eBay India, eBay Ireland, eBay Italy, eBay Korea, eBay Mexico, eBay Netherlands, eBay New Zealand, eBay Singapore, eBay Spain, eBay Sweden, eBay Switzerland, eBay Taiwan, eBay United Kingdom, eBay United States.
Requirements

FreeForm is an entirely online program. There is nothing to download and nothing to install. FreeForm has been tested thoroughly using Netscape version 4+ and Microsoft Internet Explorer version 5+ running through AOL version 6+. While there are absolutely no third party advertisements or privacy invading cookies used on robshelp.com, FreeForm does utilize ''First-Party'' cookies and JavaScript to create new windows. It may be necessary to turn off popup blocking for the domain ''robshelp.com'' to be able to use FreeForm. Because the AOL browser does not handle multiple windows very well it is strongly advised that AOL members use Internet Explorer instead.
The WYSIWYG requires use of the Internet Explorer browser.
To be able to include your own graphics and pictures within the body of descriptions requires the use of a picture hosting service. As thoroughly explained within the FreeForm Builder Getting Started page this is an eBay requirement, not FreeForm's. Separately offered is EAPH Easy Auction Picture Hosting that works hand in hand with FreeForm and, just like FreeForm, is designed based on the insight gained while answering many requests for help. EAPH is both the easiest to use and most flexible image / picture hosting service you will find providing virtually foolproof storage for auction pictures.

The example photos above and below are hosted at my Easy Auction Picture Hosting (EAPH) service where I've created tools that make it easy to optimize photos for use in auctions including application of the fuzzy edges you see here. EAPH membership is separate from FreeForm and not included in this auction for use of FreeForm. FreeForm does not require use of the EAPH service but you must have an Internet host to display images in the body of descriptions. EAPH just makes that easier...


With FreeForm you may also include your own HTML and JavaScript. The slide show below was created using ''Plugins!'', another feature of EAPH hosting, and displayed in this presentation via use of a ''Code Input Area'' in FreeForm. FreeForm is the most flexible online service you will find for creating custom presentations.
Slide Show Photos
Courtesy of Judy Hessel
jujube4 on eBay
RobsHelp has been helping sellers for nearly 6 years and over a half Million auctions have been posted on eBay with descriptions created using the ''Freeform Auction Description and Template Builder''. The sister service ''Easy Auction Picture Hosting'' (EAPH) is just over two years old yet already is powering the display of over 200,000 member images in auctions on eBay Every Day. Both services are based on providing proactive customer service -- continuously adapting textual content and programming to help avoid common problems and prevent the need for questions. This strategy has been very successful enabling Rob to devote the bulk of his attention to helping members who have special circumstances. You will receive personal attention from rob@robshelp.com If you don't receive an email response within 24 hours then something went wrong. In which case, please use the Help Response System you will find at the site.

Thank You for visiting! ~ Rob